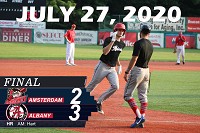 Monday, July 27, 2020
Mohawks Lose Heartbreaker To Athletics 3-2
By Jon Sargalis
After being blown out by the Albany Athletics in their first four matchups of the season, the Amsterdam Mohawks played a single game against the A's on Monday. Although they played tough, the Athletics still prevailed 3-2.
Albany got on the board first in the second inning. After 2 walks and a hit batter, Will Van Beusekom surrendered a pair of 2 out singles to Tim Carroll and Connor Pingitore as the A's took a 2-0 lead.
In the top of the third, Brian Hart hit a 2-run home run off Nick Zuba to even the score at 2 apiece.
It would stay tied at 2 until the bottom of the sixth. Von Baker came in and issued a lead off walk to Nick Hansen. Hansen would advance to second on a wild pitch and take third as catcher Ben Lavery threw the ball away. RJ Pingitore would follow with a base hit up the middle to give the Athletics a 3-2 lead.
Will Van Beusekom and Nick Bird started, but neither factored into the decision. Van Beusekom, Matt Gonzales, Devyn Fahnestock, Von Baker and Luke Pascarella combined for 12 strikeouts while Baker took the loss. Bird, Nick Zuba, Bryan Carr and Joe Gratton pitched for the Athletics with Gratton picking up the win.
More News