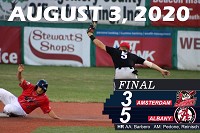 Monday, August 3, 2020
Mohawks Fall Short Against Athletics Again, 5-3
By Jon Sargalis
The Mohawks keep getting closer, but still can't get over the hump that is the Albany Athletics. On Monday the Athletics defeated the Mohawks 5-3 and held off another late Mohawks rally.
Andrew Pedone staked the Mohawks to a 1-0 lead with a first inning home run.
Brendan Disonell started off phenomenally for Amsterdam as he faced the minimum through the first 3 innings.
Then came the fourth inning and the Athletics had figured him out. A single, a double, and a walk had loaded the bases with Disonell yet to record an out. Folowing a strikeout, Nick Novak hit a sac-fly to score Tim Carroll as the Athletics tied the game at 1. Then Dan Barbaro followed and unloaded a 3-run home run to put the Athletics up 4-1.
In the fifth, Tim Carroll hit an RBI single off Teddy McGraw to give Albany a 5-1 lead.
The Mohawks started to mount a comeback in the seventh. With one on and one out, Jake Reinisch hit a 2-run home run to cut the Athletics lead in half as the Mohawks trailed 5-3.
Just as the Athletics did on Thursday to stop the Mohawks rally, Joe Alteri turned the ball over to his center fielder, Chris Salamida, to record the final 2 outs.
Jeffery Brennan faced Salamida first and reached on a single to bring the tying run to the plate. Salamida then struck out Ben Rhodes and got Cam Collett to fly out to right to end the game and preserve a 5-3 win for the Athletics.
Payton Kruzejeski was the winning pitcher for the Athletics as he pitched 2.1 scoreless innings in relief of starter Kyle Lambert. Chris Salamida earned the save for Albany.
Brendan Disonell took the loss for Amsterdam despite the Mohawks pitching staff allowing just 4 hits. He allowed 4 runs on 3 hits in 4 innings with 1 walk and 5 strikeouts. Teddy McGraw allowed 1 unearned run in 1 inning and Matt Gonzales pitched a perfect inning with 1 strikeout.
Andrew Pedone homered and doubled for the Mohawks and Jake Reinisch had 2 hits, including a home run.
More News