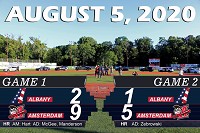 Wednesday, August 5, 2020
Hart Drives In Six As Mohawks Sweep Dutch
By Jon Sargalis
Brian Hart had a day as he drove in 6 runs as the Mohawks swept the Albany Dutch by scores of 9-2 and 5-1 on Wednesday.
Brian Hart immediately set the tone in his first at-bat of the day in the first inning. With 2 on and 2 out, Hart drilled the Joey Kosowsky offering over the center field fence to give the Mohawks a 3-0 lead.
In the third, Cam Collett led off the inning with a double and Andrew Pedone drove him in with a double. Pedone would later score on a Brian Hart ground out to make it 5-0.
The Dutch scored both their runs in the fourth as Ryan McGee and Jake Manderson each hit solo home runs off John Mikolaicyk to cut the Mohawks lead to 5-2.
Mikolaicyk had been dominate going into the fourth inning. Taking out the 2 home runs, Mikolaicky allowed just 2 other hits in 4 innings of work and recorded 7 strikeouts. Dan Parslow and Sam Bello went the last 3 innings without allowing a run.
The bottom of fifth is where things got interesting. Brian Hart, who already had 4 RBI in the game, stepped up to the plate with the bases loaded. Hart took the Ario Marynczak pitch to shallow left. The ball dropped in front of left fielder Philip Li, went under his glove, and rolled all the way to the wall clearing the bases. Many would call it a Little League grand slam; it was officially scored as a 2-run double and a 2-run error on Li to bring the score to 9-2. Hart was credited with 2 RBI on the play to bring his total to 6 for the game, but there could have been an argument for him to have 8 in the game.
John Mikloaicyk was the winning pitcher for Amsterdam while Joey Kosowsky took the loss for Albany.
The second game saw the Mohawks take the lead in the second inning. Drew Fureno drove in Jake Reinisch with a single and Ben Rhodes drove in Joe Novenche on a groundout to give Amsterdam a 2-0 lead.
In the fourth, Reilly Hall hit a ground ball to short that scored Cam Collett and a low throw got away from the first basemen that allowed Andrew Pedone to score. Hall later scored on a Jake Reinisch single as the Mohawks went up 5-0.
Adam Zembrowski got the Dutch on the board in the top of the fifth as he hit a leadoff home run off Devyn Fahnestock to make it 5-1.
Matt Gonzales started for the Mohawks and earned the win by going 3 scoreless innings allowing 1 hit and 1 walk with 6 strikeouts. Devyn Fahnstock allowed 1 run on 3 hits with 4 strikeouts and Luke Pascarella went 2 hitless innings with 1 walk and 1 strikeout to close the game. Nick Grabek took the loss for the Dutch.
More News