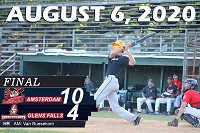 Thursday, August 6, 2020
Van Beusekom Does It All As Mohawks Top Glens Falls
By Jon Sargalis
As the season enters its final week and players start heading back to school, some lineup holes can occur that require some creative solutions. Enter one Will Van Beusekom; as the Mohawks used 4 pitchers in the batting lineup, Van Beusekom shocked everyone, even himself, with a monster home run and nearly did it again as he hit a long double. As if that wasn't enough, he also pitched the last 2 innings recording 5 strikeouts.
In the lone road trip on the season, the Mohawks played a traditional, single, nine inning game and prevailed over the Glens Falls Independents by a score of 10-4 on Thursday night at East Field.
The Mohawks excelled on all fronts despite their depleted lineup as they recorded 10 runs on 11 hits and recorded 12 strikeouts from the mound.
The Mohawks got on the board in the third when Dale Stanavich scored on a Nick Kondo single.
It stayed 1-0 until the fifth and that's when the Mohawks went to work by scoring 6 runs. Two singles and a walk loaded the bases and Nick Kondo wore a pitch to force in a run. Andrew Pedone followed with a single to score Brendan Disonell. Reilly Hall hit a ball to deep center but was caught on the run at the wall. It was hit deep enough that not only did Matt Gonzales tag up and score from third, but Nick Kondo was able to tag up and score from second to make it 5-0.
That's when Will Van Beusekom stepped up to the plate. On a 2-0 count, the pitcher unloaded a picture-perfect swing and launched a no doubter that hit the top of the East Field sign in left field. The coaching staff stated they haven't seen a ball hit that far since 2017 Mohawks slugger T.J. Collett played here. Rounding third, Van Beusekom threw up his arms in baffled amazement and the team left the dugout to greet him at the plate.
Dale Stanavich started for the Mohawks and went the first 4 innings without allowing a run on 3 hits and 3 walks with 5 strikeouts. Von Baker allowed 1 run in 2 innings. Ben Rhodes struggled in the seventh and allowed 3 runs to score, but Will Van Beusekom pitched the eighth and ninth and just allowed 1 hit while recording 5 strikeouts.
Dale Stanavich picked up the win for Amsterdam while Zach Snyder took the loss for Glens Falls.
More News