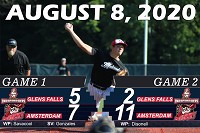 Saturday, August 8, 2020
Fifth Win In A Row Puts Mohawks Above .500
By Jon Sargalis
The Mohawks moved above .500 on Saturday with their fifth win in a row and improved their record to 13-12 as they swept the Glens Falls Independents by scores of 7-5 and 11-2.
Glens Falls got on the board first as an error open the door for Michael Bassi to hit a 2-run single in the second inning.
Amsterdam responded right back with 3 runs in the bottom of the inning as Jeffery Brennan got a fielder's choice RBI, Dan Parslow had an RBI single and Andrew Pedone hit an RBI double for the Mohawks to pull ahead 3-2.
The Independents kept fighting as Brad Hipsley faced Jason Savacool with the bases loaded in the fourth inning and delivered a bases clearing double that pulled Glens Falls in front, 5-3.
Again, the Mohawks answered right back in the bottom of the inning as John Mikolaicyk doubled and scored on a Reilly Hall double. Andrew Pedone scored on a wild pitch to tie the game and Brian Hart put the Mohawks in front with a double that scored Reilly Hall. Ryan Deo followed with an insurance run as he drove in Brian Hart with a single to put the Mohawks up 7-5.
That would be all the scoring as Dan Parslow pitched a scoreless inning with no hits, 2 walks and 2 strikeouts and Matt Gonzales earned the save as he closed the game by going the last 2 innings with no hits, 2 walks and 4 strikeouts.
Jason Savacool was the winning pitcher as he went the first 4 innings and allowed 5 runs (3 earned) on 5 hits and 3 walks with 6 strikeouts.
The second game was all Mohawks and they got off to a fast start scoring 5 runs in the second inning.
The inning started with 3 straight walks to load the bases. Dan Parslow followed with a single to score Joe Novenche. Dale Stanavich grounded into a fielder's choice as Ben Rhodes scored. Andrew Pedone delivered the big hit with a 2-run double that scored Jeffery Brennan and Dale Stanavich. Reilly Hall ended the inning as he was thrown out trying to extend a single into a double, but not before Andrew Pedone scored to put Amsterdam up 5-0.
In the third and fourth innings the Mohawks traded a run for an out as Curci and Chase each got an RBI cutting the Mohawks lead to 5-2.
In the bottom of the fourth, Andrew Pedone hit an RBI single scoring John Mikolaicyk putting the Mohawks in front 6-2.
The Mohawks went back to work in the sixth with another 5-run inning. Ben Rhodes led off with a double and scored on a Jeffery Brennan single. Dan Parslow followed with a double that scored Jeffery Brennan. A few batters later, Reilly Hall hit a 2-run single that scored Parslow and Stanavich. Brian Hart would reach on an error as Reilly Hall scored putting the Mohawks up 11-2.
Brendan Disonell started for the Mohawks and picked up the win. He went the first 3 innings allowing 1 run on 2 hits with 3 walks and 2 strikeouts. Von Baker went the next 2 innings allowing 1 run on 1 hit with 2 walks and 1 strikeout. Ben Rhodes pitched a scoreless sixth allowing 1 hit with 2 strikeouts and Devyn Fahnestock finished the game with a perfect seventh, striking out 2.
More News