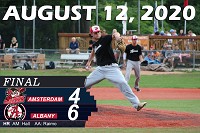 Wednesday, August 12, 2020
Mohawks Can't Top Athletics In Final Game
By Jon Sargalis
From being drastically outplayed at the start of the season, the Mohawks steadily improved and looked to finally get a win against the Albany Athletics in their seventh matchup and final game of the season.
It was not to be as the Athletics prevailed 6-4 on Wednesday night at Shuttleworth Park, but the Mohawks made the A's earn all 27 outs as they fought to the end.
The Mohawks took the lead in the first as Brian Hart hit a 2-run home run off A's starter Payton Kurzejeski.
Albany got a run back in the bottom of the first as Nate Novak drove in Nick Pastore with an RBI single to cut the Mohawks lead to 2-1.
In the top of the second, Jeffery Brennan singled, advanced to second on a wild pitch and then scored on another wild pitch to give the Mohawks a 3-1 lead.
The Athletics chipped away again as Anthony Raimo hit a leadoff single and scored on a 2-out infield single by Connor Pingitore to cut the Amsterdam lead to 3-2.
The Mohawks stayed in front until the bottom of the fourth. Anthony Raimo hit a 2-run home run to put the Athletics on to 4-3, and with the bases loaded, Von Baker hit Tommy Kretzler to force in S DeLuca to put Albany in front 5-3.
The Mohawks got one run back in the top of the fifth as Brian Hart singled off Zach Breen to make it 5-4.
Albany scored an insurance run in the seventh as Nick Hansen drove in Dan Barbero to put the A's up 6-4.
The Athletics turned to their secret weapon, Chris Salamida in the sixth with 2 outs as he had stymied the Mohawks comebacks in their last two matchups and today was no different. He went the last 3.1 innings with 8 strikeouts, including striking out the last 6 batters in a row for the save.
Zach Breen was the winning pitcher for the Athletics. The former Mohawk pitched 2.2 innings, allowing 1 run on 2 hits with 2 walks and 6 strikeouts. Luke Pascarella took the loss for the Mohawks as he allowed 3 runs in 1.1 innings.
More News