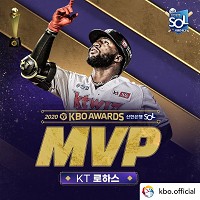 Monday, November 30, 2020
2009-10 Mohawk Mel Rojas Jr. Named KBO MVP
By Jon Sargalis
After a dominating year in Korea, Mel Rojas Jr. has the hardware to go with it. On Monday, the KBO named Mel Rojas Jr. the league MVP.
The 2009-10 Mohawk hit .349 with 47 home runs, 135 RBI, 39 doubles and 1 triple in 142 games for the KT Wiz.
Mel came first came to the Mohawks in 2009 from Wabash-Valley Community College. He worked his way into a regular spot in the lineup and became the catalyst to a Mohawks team that would go 26-3 in the final 29 games and win the NYCBL Championship. That season Rojas hit .314 with 3 home runs and 19 RBI.
The following season at Wabash-Valley is when Mel made a name for himself as he hit .398 in 62 games with 19 doubles, 10 triples, 12 home runs, 71 RBI, 94 runs and stole 61 bases in 64 attempts.
Mel returned to the Mohawks in 2010. That year the season started on June 5th and Mel was drafted on June 8th by the Pittsburgh Pirates in the 3rd round. Mel stayed in Amsterdam while the details of his contract were being worked out. He hit .298 with 11 stolen bases in 24 games before signing with Pittsburgh on July 14th.

"I enjoyed it here last year and that's why I wanted to come back this year," Rojas said in 2010 about playing with the Mohawks until he worked out his professional contract. "I just was able to go out and have fun with Coach Griffin. He's probably the best coach I've ever played for."
In the winter of 2011, Rojas returned to Amsterdam where he was inducted into the Mohawks Hall of Fame.
Rojas was a member of the Pirates farm system from 2010-2016 and made it to Triple-A. In May of 2016, the Pirates traded Mel to the Atlanta Braves where he spent the 2016 and 2017 seasons between their Double-A and Triple-A teams.
Hitting .258 in the minors, Mel fell just short of reaching the Major Leagues and was released from the Braves organization in 2017.
That's when the decision to go to Korea happened and Mel immediately signed with the KT Wiz in the KBO. He instantly fit into that lineup and after playing a half season he hit .301 with 18 home runs, 27 doubles, 3 triples and 56 RBI.
This was Mel's fourth season playing in for the KT Wiz in Korea. In that time, he has become a fan favorite, (much like his time in Amsterdam) playing in 511 games and hitting .321. He's recorded over 30 doubles 3 times, over 40 home runs twice and over 100 RBI 3 times.
This season, Mel led the KBO in wRC + (179), wOBA (.470), SLG (.680), OPS (1.097), RBI (135), HR (47), R (116) and WAR (7.80). The MVP vote was a blowout as Mel received 653 out of 896 possible points with 71 first-place votes. NC Dinos catcher Yang Eui-ji was the runner up with 374 points and 19 first-place votes. Mel is the fifth non-Asian player to win the award and first Latino to win it.
According to MLB Trade Rumors, Mel has been drawing interest from a few Major League teams and a return to the stares may be in order.
More News