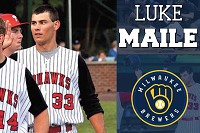 Tuesday, December 1, 2020
Maile Signs With Brewers
By Jon Sargalis
The Milwaukee Brewers have signed 2010-11 Mohawks catcher Luke Maile to a major-league contract for the 2021 season.
Maile first came to Amsterdam as a freshman in 2010 from the University of Kentucky. He had a solid summer as he hit .318 with 8 doubles and 10 RBI in 23 games. The Mohawks went on to win the NYCBL Championship over the Elmira Pioneers and finished with a 33-15 record.
In 2011, Maile started the year in the Cape Cod League, but after a month of limited playing time, he returned to a struggling Mohawks team. The Mohawks were a game under .500 and Luke became the catalyst that brought the team to another championship appearance. He returned to Amsterdam on July 3rd and hit .378 with 8 home runs (a team record at the time), 7 doubles and 25 RBI in 26 games.
The Mohawks endured a 9-10 start to the season but went 21-7 after Luke's return. They ended up falling in the PGCBL Championship to the Newark Pilots 2 games to 1.
In 2014, Luke came back to Amsterdam as he was inducted into the Mohawks Hall of Fame and often makes the trip to Shuttleworth Park during the MLB All-Star break.
Maile's professional career began in 2012 when he was drafted by the Tampa Bay Rays the 8th round. He rose through the ranks of the Rays farm system and make his Major League debut with Tampa in 2015.
Luke played 2 seasons with the Rays and then signed with the Toronto Blue Jays in 2017 where he spent the next 3 seasons.
In 2020, Maile signed with the Pittsburgh Pirates, but missed the entire season as he was hit by a pitch in an intrasquad game and fractured his right index finger.
Now healthy, Maile could see significant play time with the Brewers. The Brewers have catchers Omar Narváez and Manny Piña on their roster. Narváez hit .176 for the Brewers in 2020 and Piña hit .231.
Maile has shown flashes with the bat at times as he had 2 walk-off hits and a 2-home run game for the Blue Jays but could never find a groove at the plate as a backup catcher. He has a career slash line of .198/.252/.304 in 215 games and 657 plate appearances over 5 seasons. It'll be Luke's reputation as a strong defender that'll get him in the lineup and if he gets comfortable at the plate, we may see some of the offensive talent he displayed here in Amsterdam.
More News