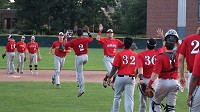 Sunday, August 4, 2019
Mohawks Advance to PGCBL Championship, Defeat Dutchmen 10-4
By Jon Sargalis
The Mohawks are headed back to the Championship for the 9th time in the past 11 years!
On Sunday the Mohawks won Game 2 of the East Division Finals by a score of 10-4 over the Albany Dutchmen at Siena College.
It was Albany who got on the board first. Chris Seng and Ryan McGee led off the first inning with back-to-back singles and scored on a 2-run single by Tommy Pellis. Those would be the only runs Amsterdam starter Mitch Hartigan would allow as he shut down the Dutchmen for the next 5 innings. Hartigan would allow 2 runs on 7 hits with 1 walk and 4 strikeouts in 6 innings.
In the fourth inning the Mohawks finally got to Albany starter Blake Bales as DJ Poteet hit a 3-run home run. Landon Jordan doubled later in the inning and scored on a Paul Franzoni single as the Mohawks took a 4-2 lead.
In the seventh, the Mohawks loaded the bases and Landon Jordan walked to force in Richie Barrella. DJ Poteet scored on a wild pitch and Rook Ellington scored on a Paul Franzoni sac-fly as the Mohawks took a 7-2 lead.
In the bottom of the seventh, Brendan Disonell took over for Mitch Hartigan on the mound. After recording the first 2 outs, the Dutchmen loaded to bases with 2 singles and a walk. Matt Gonzales came in and was a strike away from ending the inning, but Tommy Pellis hit a 2 out, 2 strike single to drive in 2 runs. David Harrison came in and recorded the final out on one pitch as the Dutchmen cut the Mohawks lead to 7-4.
In the eighth, Max Costes doubled and scored on a Richie Barrella single. In the ninth, Paul Franzoni hit a 2-run single to score DJ Poteet and Rook Ellington as the Mohawks took a 10-4 lead.
David Harrison was unhittable the rest of the game as he pitched the final 2.1 innings and just allowed 1 walk with 3 strikeouts to earn the save as Mitch Hartigan was credited with the win.
Paul Franzoni drove in 4 runs on 2 hits and DJ Poteet had 2 hits, including a 3-run home run and scored 3 runs.
The Mohawks will play the Adirondack Trail Blazers in the PGCBL Championship. Game 1 will be in Boonville on Tuesday and Games 2 and 3 will be in Amsterdam on Wednesday and Thursday.
More News