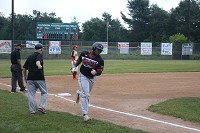 Tuesday, August 6, 2019
Costes Powers Mohawks To Game 1 Win, 9-4
By Jon Sargalis
On Tuesday the Mohawks won Game 1 of the PGCBL Championship on the road at Smith Sport Complex in Boonville by a score of 9-4.
The Mohawks wasted no time getting on the scoreboard as Dalton Reese led off the game with a double and Max Costes followed by hitting the first pitch he saw over the center field fence for a 2-run home run.
Chris Rotondo came up in the bottom of the first and homered off Mohawks started Dylan Smith to cut the Amsterdam lead to 2-1.
Costes and Rotondo seemed to match each other blow for blow, after each homered in the first inning, they both hit solo home runs in the third inning as the Mohawks took a 3-2 lead.
In the fourth, Landon Jordan drove in Kevin Jimenez with a single, but the Trail Blazers kept pace as they scored a run on an error and stayed within a run at 4-3.
In the fifth, Mitch Hartigan homered as the Mohawks took a 5-3 lead.
Will Gambino replaced Dylan Smith in the fifth inning, Smith went the first 4, allowing 3 runs (2 earned) on 4 hits and 5 walks with 7 strikeouts. Gambino retired the side in order in the fifth, but walked the first batter he faced in the sixth. Gambino handed the ball to Matt Gonzales, who was able to leave the tying run stranded on second base.
In the bottom of the seventh, Chris Rotondo struck again as he led off the inning with a triple off Gonzales and scored on a ground out by Peter Cosentino to cut the Mohawks lead to 5-4.
Brendan Disonell pitched a scoreless eighth inning as the Mohawks took a one run lead into the ninth.
In the ninth, Mitch Hartigan hit a double to score Landon Jordan, Richie Barrella reached on a pair of errors as 2 runs scored and Michael Turconi drove in Barrella with a single as the Mohawks took a 9-4 lead.
Trey Alderman closed out the game with a 1-2-3 ninth inning and Will Gambino was credited with the win while Chris Sparacino took the loss.
More News