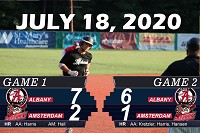 Saturday, July 18, 2020
Breen Throws Complete Game As A's Sweep Mohawks
By Jon Sargalis
In 2014, St. John's pitcher Thomas Hackimer and Barton pitcher Zach Breen shared the closers role for the Mohawks. When Hackimer went down due to injury, Breen took control of the job. He recorded 5 saves with a 2.31 ERA and anchored down a bullpen that won the PGCBL Championship.
Fast forward 6 years and Zach Breen is now a member of the Albany Athletics as he took the mound in Saturday's first game against the Mohawks. He was dominate on the mound as he threw the first complete game in ICBL history en route to the A's 7-2 win over the Mohawks. He recorded 10 strikeouts to just 1 walk and surrendered 5 hits.
The Mohawks only got to Breen twice. In the second inning, Ben Rhodes and Tyler Cannoe had back-to-back hits to score a run and with 2 outs in the seventh, Reilly Hall homered to right field.
Jason Savacool started for the Mohawks and went the first 3 innings. He cruised through the first two innings but ran into trouble in the third. Tommy Kretzler hit a ground ball that ate up Jeffery Brennan as Brendan Harris scored to tie the game at 1. The error opened the door to 2 more runs scoring as Nate Novak recorded a ground out RBI and Dan Barbero hit an RBI double to make it 3-1.
John Mikolaicyk replaced Savacool and recorded 5 strikeouts in 2 innings of work. He only allowed 1 hit, which was a home run to Brendan Harris as he led off the fifth inning to make it 4-1.
Sam Bello allowed 3 runs in the sixth as he gave up doubles to Nick Hansen, Anthony Raimo and Brendan Harris while Matt Gonzales pitched a scoreless seventh for Amsterdam.
The second game faired no better for the Mohawks as the Athletic's won 6-1.
Tommy Kretzler homered in the first and Brendan Harris hit a 2-run homer in the second off Mohawks starter Dale Stanavich to give the A's a 3-0 lead.
The Mohawks lone run came in the third inning when Joe Novenche hit a leadoff single and later scored on a Cam Collett sac-fly to make it 3-1.
Albany scored one in the fifth when Nick Pastore was hit by Teddy McGraw with the bases loaded and Nick Hansen hit a 2-run home run in the seventh off Will Van Beusekom to seal the victory for the Athletics.
Carson Stewart was the winning pitcher for the Athletics allowing 1 run on 2 hits and 3 walks in 3 innings and Tommy Kretzler picked up the save as he struck out 4 on 2 hits without allowing a run in the final 2.2 innings. Dale Stanavich took the loss for the Mohawks as he allowed 3 runs on 3 hits with 4 strikeouts and no walks in 3 innings.
More News