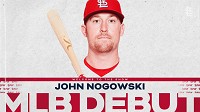 Sunday, August 16, 2020
Nogowski Makes Major League Debut
By Jon Sargalis
John Nogowski's path to the Major Leagues looked over. The 2013 Mohawk had reached Double-A for the Oakland A's, but struggled in his short time there and was released following Spring Training in 2017. After a trip to Iowa and a chance by the Cardinals, Nogowski finally made it to the show on Sunday.
The summer of 2013 is when Florida State sophomore John Nogowski made his way to Amsterdam. The strong fielding first basemen played 44 games with the Mohawks. He hit .365 with 14 doubles, 1 triple and 3 home runs, drove in 24 runs and scored 33. He led the Mohawks to a PGCBL Championship and was named PGCBL MVP in the process.
After a solid junior season where Nogowski hit .307 for the Seminoles, the Oakland A's drafted him in the 34th round of the 2014 MLB Draft.
He progressed his was through the minors and got a shot in Double-A with the Midland Rockhounds in 2016. He played just 7 games and hit a disappointing .130. The A's released him following Spring Training in 2017.
That's when Nogowski went to Sioux City, Iowa to join the Explorers in the Independent American Association. He completely turned it around and hit .402 in 34 games with 16 extra base hits and 28 RBI. He was signed by the St. Louis Cardinals and assigned to their Double-A affiliate in Springfield where the success continued. Nogowski hit .295 in 59 games and .309 in 83 games the following year.
The Cardinals moved Nogowski up to Triple-A in 2019 with the Memphis Redbirds and he had his best season as a pro. In 117 games, Nogowski hit .295 with 22 doubles, 1 triple, 15 home runs, 75 RBI and he was named an Organization All-Star.
In 2020 he was invited to Spring Training with the Cardinals and placed in the Alternative Site. He received the call-up on Saturday and was in the starting lineup for his debut on Sunday.
The Cardinals were in Chicago on Sunday playing the White Sox in a matinee matchup. Nogowski was batting ninth and playing first as Cardinals faced 2015 Cy Young Award winner Dallas Keuchel.
Nogowski's first at-bat came in the third inning when Nogowski grounded out to second on an 0-2 pitch.
His second at-bat came in the sixth inning. Nogowski led off the inning and took the 2-1 offering from Keuchel to the left of the second base bag for a sharp hit ground ball into center field.
The Cardinals ended up losing to the White Sox by a score of 7-2, but Nogowski became the twelfth former Mohawk to reach the Major Leagues as he went 1-for-4 in his debut. See his post game comments below:
More News