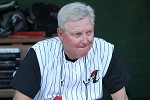 Keith Griffin returns for his 12th season as Mohawks Head Coach. He assumed the role in 2009, but was unable to get to New York for the 2020 season due to Covid-19 travel restrictions.
Griffin is the franchise's all-time wins leader, having led the Mohawks to a 404-162 record between the regular season and playoffs since taking over as head coach in 2009. He's led the Mohawks to league championships in 2009, 2010, 2012, 2013, 2014, 2016 and 2019. The Mohawks have won the Division in 10 of those 11 years and they have reached the league finals 9 times under Griffin.
In 2019, Griffin led the Mohawks to a to their 10th League Championship Title when they defeated the Adirondack Trail Blazers two games to none. The Mohawks went 33-13 during the regular season and clinched the East Division for the 7th year in a row.
A native of Alabama who now resides in Pensacola, Fla., the 64-year-old Griffin has won more than 1,000 games as a head coach in a career that splans nearly 40 years. He served as head coach at Pine Forest High School in Pensacola from 1980 to 1990, and after serving as an assistant coach in the collegiate ranks for seven seasons he spent 13 seasons as a junior college head coach at both Jefferson Davis Community College and Okaloosa Walton College. He won an NJCAA Division II national championship at Jefferson Davis in 1998 and coached nine future major leaguers during his time at Okaloosa Walton.
Since coming to the Mohawks, more than 50 of his former Amsterdam players have gone on to professional baseball. Three of them — Toronto Blue Jays catcher Luke Maile, Blue Jays pitcher Mark Leiter Jr. and San Diego Padres pitcher Trey Wingenter — ended the 2018 season on Major League Baseball rosters.
COACHING EXPERIENCE:
Head Coach at Amsterdam Mohawks, 2009-2019
Head Coach at Okaloosa Walton College, 2002- 2008
Head Coach at Jefferson Davis C.C., 1996-2002
Assistant Coach at Okaloosa-Walton C.C., 1992-1996
Assistant Coach at Jacksonville University, 1990-1992
Head Coach at Pine Forest H.S., Pensacola, FL., 1980-1990
COACHING HONORS:
Named National Coach of the Year (1998)
Two times named NJCAA Region 22 Coach of the Year (1998, 2000)
Two times named AJCCC Coach of the Year (1998, 2000)
NYCBL Coach of the Year (2009)
PGCBL Coach of the Year (2012)
Mohawks Hall of Fame (2017)
Back to Roster Page